CN-KnowHow heads the list of Beijing IP firms by number of grant of invention patents in 2019 on behalf of local applicants
By the end of 2019, a list of Beijing IP firms ranked by number of grant of invention patents handled on behalf of local applicants was launched. The list shows that CN-KnowHow is ranked No.1 with largest number of 1952 grants of invention patents. In fact, CN-KnowHow has ranked the top for many consecutive years.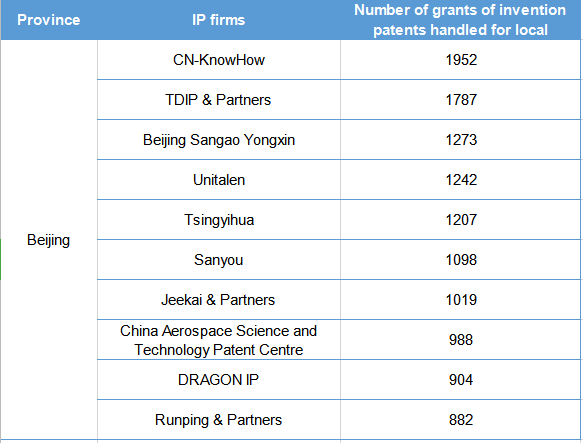 As the city leading science and technology innovation nationwide, Beijing has been reaching new scientific and technological achievements to promote economic developments. CN-KnowHow, as a professional IP firm, has always been pursuing high quality services for our clients, and taking it as its own responsibility to be helpful in developing science and technology innovation in the Beijing area. Thanks to the continuous development of Beijing applicants' innovation ability, our firm has handled numerous high quality invention cases, which help us to achieve gratifying results in different ranks with various criteria and in diverse business areas, especially in the recognized evaluation indicators, such as number of invention patents granted, number of patent applications, and many more.
The above-mentioned achievement is an affirmation and recognition of our professional work and service quality, and will encourage CN-KnowHow to work together with colleagues in the IP filed to contribute more to the development science and technology.